Kenya: The Service has today launched three Participatory Forest Management Plans (PFMPs) and signed Forest Management Agreements with forest-adjacent communities from Pongwe-Kidimu, Mrima and Marenje Community Forest Associations (CFAs) in an event presided over by Dr Elizabeth Wambugu the Principal, Kenya Forestry College (representing the Ag. Chief Conservator of Forests) and Lunga Lunga Member of Parliament Hon. Mangale Chiforomodo at Mirima Primary School in Kwale County.
The PFMPs have been developed with support from WWF-Kenya and Plan International and are aimed at providing a 5-year framework to guide forest conservation and sustainable livelihood development through user-right activities (such as: Beekeeping & Mangrove Value addition) for the CFAs.
The PFMPs will also provide a roadmap for the protection and conservation of the endangered Kenya Forests that have critical biodiversity and cultural relevance to communities across the coastal region. The Kwale County Forest Conservator also received a donation of tents from WWF Kenya that will aid in field patrol activities for community forest scouts.
---
---
Marenje Forest is located in Kwale County and covers an area of 1544.3 Ha, while Mrima Forest is a wet coastal forest located on a small hill rising from the coastal plains, and Pongwe-Kidimu Mangrove Forest covers an area of 2865Ha.
The Exercise was also attended by KFS Senior Staff and Partners, who included Nafasi Mfahaya (Regional Forest Conservator, Coast Conservancy), Dr Victor Keraro (WWF-Kenya), Albert Mulamba (Plan International), James Mwang'ombe (PCF, Biodiversity), Esther Kiege (Head, Legal Services), Carol Busuru (Management Plans), Kwale County Commissioners and the area MCAs, Base. Titanium & officials from the Kwale County Govt were also present in the Exercise.
On the other hand, the Kenya Forest Service partnered with Regis School in a tree planting exercise led by Assistant Forester Karura, Adam Maina. The students and scouts, together with their Principal, teachers and Parent representatives, planted 150 tree seedlings in the school compound.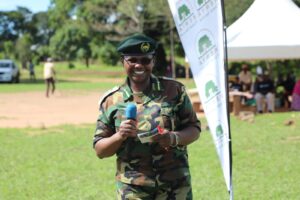 The students were sensitized to the importance of tree growing and environmental conservation as a way of mitigating the negative effects of climate change. The trees planted will be an opportunity for them to learn and be part of climate change efforts.
The Service is working with schools to inculcate a culture of tree growth among young people in order to increase the country's tree cover to beyond 10% by the year 2032.
Image credit: kenya Forest Facebook page