Kenya: Earlier, the Chief Conservator of Forests, Julius Kamau, EBS, alongside the KFS Senior Management Team, hosted the KFS staff members for a breakfast meeting to usher in the new year at the headquarters in Karura.
The meeting was also joined by officers from Kenya Forestry Research Institute (KEFRI) represented by Deputy Director Dr George Muthike, who shared a word from the Bible as KFS launched the 2023 theme for the Service's Interdenominational Prayers, "The year of the Lord's remembrance," derived from the book of Malachi 3:16.
The CCF, in his address, reflected on the Service's milestone where collectively, KFS shared a legacy of surpassing the constitutional 10% tree cover threshold by 2022 with the nation (individual members of the public, private stakeholders, NGOs and the Service as Government).
---
---
Through that, he encouraged and urged all staff members to be steadfast in following the forest restoration goal outlined by the new administration to achieve a 30% tree cover by 2032.
Mr Kamau also echoed the directive by His Excellency President Dr William Ruto to tap into occasions such as birthdays and other celebrations to plant tree seedlings as one way of fast-tracking the achievement of the target to grow 15 billion tree seedlings by 2032, starting with planting 5 billion by 2027.
During the sermon, Dr Muthike urged the congregation to be conscious of the deeds they carry out for the rest of the year with respect to what the deeds yield, as negative deeds consequently lead to negative outcomes.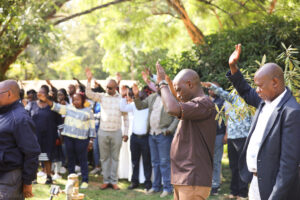 As a Service, we are geared towards ensuring that we continue to protect the existing forest resources for the benefit of our nation and amplify the rallying call by our President for all Kenyans to undertake the patriotic responsibility of growing trees as one way of saving the planet and to make our nation climate resilient.
Together, let's progress towards ku#JazaMiti to achieve 30% tree cover by 2032.
Image credit: Kenya Forest Service Facebook Page