South Africa: Premier of KwaZulu-Natal yesterday described as a major loss the passing of Mandla "Mampintsha" Maphumulo, the former member of the famous Big NUZ musical group who passed away on Christmas eve.
Delivering the eulogy at the Inkosi Albert Luthuli Convention Centre on Friday, Premier Dube-Ncube said Mampintsha was an ambassador who marketed the province through his music and was a pioneer who helped build a new brand of music called Gqom that has taken the world by storm.
"We pay tribute to this talented young artist who had so much to offer. In that way, he was one of our best ambassadors opening up our province's potential to the world and creating jobs in the music industry for generations to come. What was also admirable about uMampintsha was his entrepreneurial spirit and how he was in the process of positioning his "Original Shandis" brand to become a force to be reckoned with in the clothing and liquor business."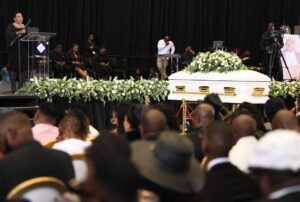 Premier Dube-Ncube said, "artists like Mampintsha had achieved so much beyond their years at the time of death, and their legacies remain even when they are long gone. The legacy being built by the pioneers of Qgom music is yet to be fully understood and should be studied closely for generations to come, "said Premier Dube-Ncube.
Premier Dube-Ncube said Mampintsha's death was a loss to the entire province and the people of South Africa and the world.
"We stand here deep in sorrow, with our shoulders burdened by the heavy sense of loss that has befallen the entertainment world, but also the people of the KwaZulu-Natal, in particular," added Premier Dube-Ncube.
The Premier said Mampintsha, who was 40years of age, was "a star that shone brightly among us has been dimmed, in a manner which cruelly reminds us of the fragility and unpredictability of life, because in relative terms, Mampintsha was taken from us at a rather young age, when he had so much to offer".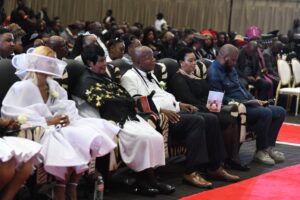 The Premier reminded the audience that artists are "special beings who are sent merely to live among us, but who, in reality, belong to a special breed" that brought them joy, a sense of belonging, a reason to live, as well as hope for a better tomorrow".
"In the journey of their lives on earth, artists like Mampintsha, therefore, may appear to live in the sphere of the ordinary, but are in fact every day burdened by the gods of entertainment, who have placed in their hands the ability to transport people to that special place of joy and happiness through their craft," said Premier Dube-Ncube.
"We know that as recently as November 2022, the group released what has now become their final collaborative album after a 7-year absence. This was their seventh album, and it features a song called "Ngeke" which has been one of the leading festive season anthems played by people at wedding venues and elsewhere. I do trust and hope that this will be our crossover anthem to 2023," said Premier Dube-Ncube.