South Africa: Limpopo Health MEC Dr Phophi Ramathuba is pleading with pregnant women to seek help in time when they are due to deliver babies. This after a woman who was in her second pregnancy delivered a child in a car inside the Burgersfort Clinic earlier today.
According to the preliminary report, the woman presented to the clinic at around 6H20 in the morning. The security personnel opened the gate for her and called on the nursing staff to assist.
This is despite the clinic opening at 7HAM. When the nurse arrived, the woman had already delivered.
According to figures, last year, at least 5193 women delivered children before they could reach a health facility in the province. This figure is indicative of the challenge that we have in terms of women who rather wait until they are progressed before they seek help.
"Women must not wait until they are highly progressed before they could come to the facility; this puts at risk the lives of both the mother and the child," said MEC Ramathuba.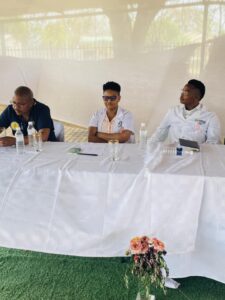 Yesterday, Limpopo Health MEC, Dr Phophi Ramathuba, led a multidisciplinary team as they unveiled community healthcare workers' cancer screening tool at Blouberg Community Healthcare Centre in the Blouberg Municipality.
The Obstetrics and Gynaecology, urology, and surgical teams unveiled cancer screening tools for community healthcare workers on cervical, prostate and breast cancer, then referred patients that require further medical attention to the Community Healthcare Centre for further management.