Mauritius: An official award of certificates ceremony was held on 26 January 2023 at the Caudan Arts Centre in Port Louis for 26 participants from the World Health Organisation (WHO) Health Office and the Ministry of Health and Wellness who successfully completed the Behavioural Insights (BI) Training Programme.
The Minister of Health and Wellness, Dr Kailesh Kumar Singh Jagutpal, the WHO Representative in Mauritius, Dr Anne Ancia, and other personalities were present on this occasion.
In his address, Dr Jagutpal commended the WHO representatives for having chosen Mauritius for the first in-country implementation of the BI Training in Africa. This training, he highlighted, can improve the design of policies and programmes, communications, products and services aimed at achieving better health for all.
The Minister dwelt on the objective of the Behavioural Sciences for Better Health Initiative at the WHO, which is to promote and enable the systematic use of behavioural and social sciences in public health across the work of the WHO and its partners.
"My Ministry is striving to increase our database on behaviour so as to move to the next level in the Health Sector," he pointed out.
Furthermore, Dr Jagutpal stressed that this training programme is in line with the objective of the Ministry towards the success of the health sector, which is capacity-building of the human resource so as to sustain behavioural change in the public health sector. The Health Minister also indicated that he looks forward to the resolution on Behavioural Sciences for better health to be adopted in the next World Health Assembly in Geneva in May 2023.
For her part, Dr Ancia observed that this three-day training session was organised by the WHO in close collaboration with the Ministry of Health and Wellness. The WHO has been supporting Mauritius at various levels in preparing and extending this training to Government staff, different Ministries, and academia, among others, she stated.
Moreover, she remarked that Mauritius is the first country in the region to roll out the BI training and recalled that facilitators have been working with the WHO country office in Mauritius for the contextualisation of the BI training modules so as to further adapt the training content to local participants.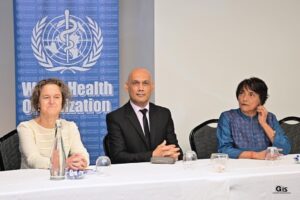 Dr Ancia indicated that for this first roll-out training, representatives from the Communicable Diseases Control Unit; Non-Communicable Diseases/Health Promotion Unit; Health Information Education and Communication Unit; academia had been targeted. She also underscored that the WHO is exploring the possibility of collaborating with academia to include BI on the list of courses and training programmes for health professionals as it represents opportunities to optimise the use of BI in addressing the country's health challenges.
Image credit: Mauritius Facebook page