Mauritius: An official opening ceremony for a two-day workshop focussing on Marine Spatial Planning (MSP) Zoning framework was held this morning in Port-Louis, in the presence of the Director General of the Department for Continental Shelf, Maritime Zones Administration and Exploration (CSMZAE), Dr Rezah Badal.
Experts from Mauritius and Seychelles are participating in this workshop which is jointly organised by the CSMZAE and the United Nations Development Programme (UNDP).
Its aim is to demonstrate innovative ocean governance mechanisms, as well as deliver best practices and lessons for Extended Continental Shelf Management within Western Indian Ocean maritime ecosystems.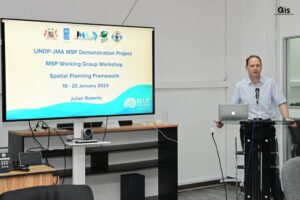 In his address, Dr Badal highlighted that the purpose of the workshop is to revise and adopt the final Zoning framework for the Joint Management Area (JMA) and to prepare an initial draft Zoning map for the JMA based on the agreed Zoning framework.
The outcome of the workshop, he stated, will provide insight regarding the development of the final Spatial Management Plan, which is expected to be completed by March 2023.
He underlined that, in recent years, MSP has become increasingly important as it is a practical way to create and establish a better organisation of the use of marine space. MSP, he added, seeks to address the interactions between different uses of marine space, balance demands for development while protecting marine ecosystems, and achieve social and economic objectives in an open and planned way.
It is recalled that the UNDP is supporting Mauritius and Seychelles in the implementation of the JMA Demonstration project. The Strategic Joint Management Area Marine Spatial Planning Roadmap was prepared under phase 1 of the project and approved in November 2019, while the Roadmap is now being implemented under phase 2.
Image credit: Mauritius Facebook Page