Mpumalanga: The Mpumalanga Department of Education, in partnership with the National Education Coalition Trust, launched the MEC Majuba Book Club at Jandrell Secondary School in Sakhile Township, Standerton, in the Lekwa Local Municipality.
The book club seeks to lighten up the need to read to communities around the province.
The club was born out of, amongst other reasons, the 2021 Progress in International Reading Literacy Study report, which stated the challenge of South African grade 4 learners failing to read with meaning.
The book launch follows the Presidential initiative of the President of the Country, Cyril Ramaphosa, an ardent reader himself who established and launched the President's Reading Circle in 2019.
This presidential initiative then led to the launch of the Read to Lead Campaign by the Department of Basic Education, led by Minister Angie Motshekga, in April 2022.
In view of the poor reading performance of learners, particularly in Grade 4, the Mpumalanga Department of Education has partnered with National Education Collaboration Trust (NECT) to coordinate the development and implementation of a comprehensive reading improvement strategy culminating in the MEC's Book Club launch.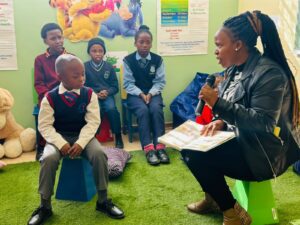 The Reading Club's objectives are, amongst others, to assist in mobilising children and communities to establish reading clubs. Through this book club, parents, grandparents, and grandchildren will be motivated to read; societies are also going to be mobilised to read for enjoyment, while churches and other social gatherings will also be involved in reading and motivate parents to buy story books to read to children.
The Book Club will also solicit partnerships in the development and reading agenda by encouraging writers to write books, business people to partner and provide resources for children to read and provide book donations for children of all communities to access books to read.
Application forms for the club are available for everyone to fill in and join. Learners, parents and community members are invited to join.
Presently, the Reading Club has 200 members and is growing. The launch book for the club is "Quite Activists" by renowned author and political activist Peter Present who graced the occasion and presented a summary of the book.