South Africa: Speaking at Philip Ndimande Secondary School at Emalahleni on the occasion of the signing of the Pledge of Good, MEC Majuba urged all Grade 12 learners to do everything to ensure the credibility of the Examination.
To this end, he said, "I am very pleased to be with you at this crucial time of your schooling year, which is a deciding moment for the future well-being of our Grade 12 learners.
I am truly grateful for your warm company just 09 days before the start of the Grade 12 National Senior Certificate Examinations.
I wish to use this opportunity to extend my revolutionary appreciation to all our learners in the Province for their dedication and hard work throughout the year.
We know and acknowledge that it was not easy, but you pulled through against all odds.
This year, there are 71 582 full-time candidates that registered to write the 2022 National Senior Certificate Examination.
---
---
This number is the biggest in the history of writing such an examination in the Province. This number suggests that we must be extra vigilant and meticulous in managing all due processes.
It means that everyone must be lobbied to play a meaningful role towards ensuring a credible and incident-free examination process, as it happened in the past 12 years in our beloved Province.
Programme Director, allow me to state that it is a great pleasure for me to visit Phillip Ndimande Secondary School because this school has performed fairly well in the past years in the National Senior Certificate examinations.
In 2018, Philip Ndimande Secondary School performed at 94.1%; in 2019, it obtained 90.7%; in the year 2020, it registered 77,5%, and in 2021, it recorded 82.4%.
This is an encouraging record that confirms the potential of this school for future results.
The fact that those who were in Grade 12 before you performed above 70% during a difficult period of COVID-19, means that you can perform even much better compared to them.
Equally, I am impressed with the results of FH Mkhabela, DM Motaosele, Zacheus Malaza and Leonard Ntsuntse Secondary Schools.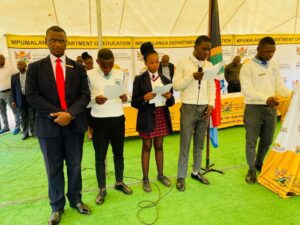 They, too, came to the party in the most impressive manner. I wish to thank the leadership of these schools, their management teams, teachers, school governing bodies, parents and learners.
I am of the view that all the schools that are represented here today have the potential to achieve a 100% mark this time around.
I will be happy if you can promise me that you will work towards achieving a 100 % pass rate.
It is possible, as the late founding father of our democracy and former President Nelson Rolihlahla Mandela once said:
"It always looks impossible until it is done."
My children, the signing of the pledge also marks the official start of our examination season, we will witness you sign the pledge that binds you to this crucial course.
As you sign the pledge today, it must speak to your conscious that you will behave well in keeping to the rules and regulations of the National Senior Certificate Examination.
In essence, you are making a public comment that you will abide by the rules and regulations throughout this examination process.
I know that in your minds, you are thinking that you are about to enter the battlefield with one of the biggest enemies you have ever faced, but in reality, you are entering this Examination equipped with knowledge and experience to conquer for success.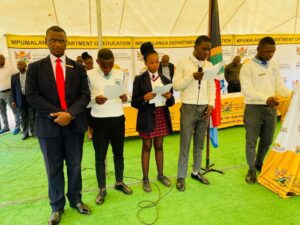 You have been writing assessments and exams since Grade R.
Your teachers and parents have, for the past years, been a supportive structure to you, and they continue to support you even now.
There is no way you can be left alone; the support is abundant.
You are part of the more than 55 000 learners who benefited from the Department's Ubuhlebuzile e-learning programme.
The tablets you got have all the supplementary material needed to ensure a 100 % pass rate.
I hope you used them meaningfully as you were preparing for this Examination.
I also wish you to promise that you will return all of them so that your brothers and sisters can use them next year.
The Class of 2021 registered a National Pass rate of 73.6%.
We are therefore hopeful and trust that you will surpass that target and you will obtain a 100% pass rate since you have been exposed to more resources compared to those who came before you.
With regards to our geographical location, we are in the East of South Africa, and the Bible says wise men come from the East.
When the country searches for people who will have to build our Nation, for people who need to change the state of our economy, when the country calls for young men and women who are elevating their communities and creating innovative ideas that will improve the health of our country, they should be sourcing from us, the people of the East- the people of Mpumalanga, the Place of the Rising Sun.
As a Department, we hope that you have already applied for admission with the different universities or TVET Colleges.
We say this because it always saddens us in January when the Grade 12 results are announced to see many who passed outstandingly, some with more than five distinctions without any admission because they did not apply for university admission on time.
We are here to assure you that you must be more than prepared for this Examination. We also urge you to desist from any act of dishonesty and misconduct so that you may not find yourselves on the wrong side of the law.
The pledge that you sign today serves as a contract of your conscience for you to respect the rules and procedures that are stipulated.
It is also important that we remind you that when you do not follow all the stipulated rules and regulations, it will result in disqualification.
You have worked really hard over the years to experience that; hence we discourage anyone from even thinking about cheating or any form of misconduct.
We don't wish that to happen to you.
As you sign remember that this is a promise to conduct your selves with honesty and integrity.
I wish you all the best.
We look forward to be handing over a bursary from the Department and a brand new car to one of you as a provincial top learner on 20th January 2022 next year when we announce the results.
I am hopeful that I will meet some of you at the University of Mpumalanga on the day of the announcement.
To the teachers, thank you so much for all your hard work, we know that you always go an extra mile to ensure that our children receive the best education.
We sincerely appreciate all your efforts. You have played your part, and henceforth, it is up to these learners to finish the course.
Yours is to take again, the Class of 2023 and prepare it for its own journey.