Mauritius: A ceremony to kick off activities to mark World Mental Health Day 2022 was organised this morning at the Brown Sequard Mental Health Care Centre (BSMHCC) in Beau-Bassin. This year's theme is, 'Make mental health and wellbeing for all a global priority.
The Minister of Health and Wellness, Dr Kailesh Kumar Singh Jagutpal; the Parliamentary Private Secretary, Dr (Mrs) Marie Christiane Dorine Chukowry; the Programme Management Officer of World Health Organisation, Mr A. Nundoochan; the Consultant in Charge of Psychiatry of BSMHCC, Dr A. A Gopee; and other personalities were present.
On occasion, an exhibition on creative activities by patients of the Occupational Welfare Department, a video on post-Partum depression and a training programme for medical and para-medical staff by the MOH was also launched.
---
---
In his address, Minister Jagutpal said that World Mental Health Day celebrated annually on 10 October, aims to sensitise the population to the importance of mental health and mental illness. He made an appeal to each and every one to promote factors known to protect mental health and create the conditions needed for people to thrive.
One out of eight persons in the world, he indicated, suffer from mental illness and every second, a person is committing suicide.
The World Health Mental Organisation, he highlighted, emphasises the importance of sensitising children on mental health so that they are brought up to become mentally strong and develop the ability to cope with stressful situations.
Whilst the pandemic has and continues to take its toll on our mental health, the pandemic has also enabled the health sector to develop new strategies to become more resilient, and provide opportunities to re-kindle efforts to protect and improve mental health, said the Minister.
He indicated that in the year 2021, Mauritius registered 1,667 cases of mental illness and attributed the cases mainly to drug consumption, alcohol and depression. The cases, he added, are increasing, and 3,145 new admissions have been recorded from July 2021 to July 2022. The Minister also spoke of the decentralisation of mental health services to cater for wider outreach and to be closer to those in need.
In view to cater for the wellbeing of patients, the Minister dwelt on various Governmental measures. He indicated that according to the National Health Accounts 2020, Government invested around one billion rupees for mental health services and that budget 2021/22 made provision for the reintegration of mentally stabilised patients into Care homes. Minister Jagutpal pointed out that new medicines and injections will also be introduced so as to reduce the dosage and secondary effects of medicines for patients who have been consuming medicines for years.
As for Mr A. Nundoochan, he indicated that around 970 million persons presented signs of mental illness in the year 2019 and that the figures are increasing alarmingly with COVID-19.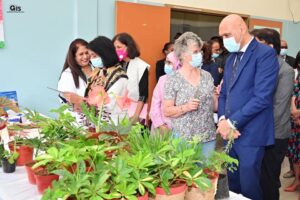 The pandemic, he said, has its positive sides as well as it prompted institutions to review aspects of mental health. It is more than ever important for authorities and for each and everyone to get engaged in raising awareness on mental health at home and in their surroundings, he underscored. Socialisation, communication, good sleep and a healthy diet are key factors to mental wellbeing, he pointed out.
Dr Gopee said that the day is a reminder to teach mankind about mental health, that is, a state of wellbeing where a person is able to cope with the normal stress of life. He underlined the misperception of mental illness, adding that for years people tended to look down upon those suffering from mental illness. He emphasised the need to clear the misconception and remove the stigma attached to mental illness.