South Africa: Five (5) year-old Mvelo Gumede who disappeared while playing in the yard of his Sun Crescent, Lotusville – KZN home, was discovered drowned in a neighbour's pool a short while ago (Thursday).
A search was launched for the missing boy at approximately 18:49 yesterday afternoon (Wednesday) after he went missing.
His father contacted Reaction Unit South Africa for assistance and informed the attending Officers that the minor was playing with a six (6) year old tenant when she decided to return home for refreshments.
---
---
Gumede could not be located thereafter. Law Enforcement Officers interviewed the 6 year old female, who was unable to provide any information. A search party was formulated and several locations around Lotusville – KZN were explored without success. The search was called off at 02:30 and resumed at 06:00 this morning. The RUSA R44 Helicopter was being pre-flighted for lift off to assist in the search for Gumede.
The 6 year old female was re-interviewed by her aunt this morning. She appeared visibly traumatised and was still unable to provide any information. Her aunt left shortly thereafter to purchase treats for the girl in an attempt to extract information.
While RUSA Members were searching a bush in the area, they were informed by a resident that a child was located floating in his pool approximately 50 meters from their location.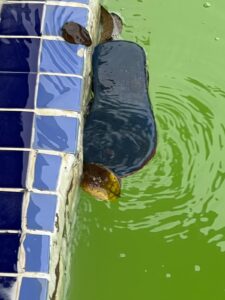 Reaction Officers & RUSA Medics proceeded to the property, where the missing child was discovered floating face down in the pool. Medics retrieved his body from the pool at 07:21 and declared him deceased shortly thereafter. The boy sustained traumatic injuries to his face. His sandals were found floating in the pool.
The foul play could not be confirmed. Gumede resides in Ndwedwe – KZN, with his mum but was spending the school holidays with his father in Lotusville – KZN. He attended Siya Kolisi Crèche in Durban – KZN.
It is suspected that the deceased entered the yard two doors away from his home through a damaged diamond wire mesh fence (picture 2).
Investigations are continuing.