South Africa: Germiston Stadium, Boksburg, 06 December 2022: Following a successful first day of the Active Ageing Programme at the Birchwood hotel on Monday, older persons on Tuesday, 6 October 2022, came in their numbers to keep themselves fit by participating and competing in the National Golden Games at Germiston Stadium.
The weather gods were also on the side of the older persons even though there was a reported chance of heavy rains.
Senior citizens looked rejuvenated from the early hours of the morning as they challenged each other with sporting chants and traditional songs delivered with great energy and passion. Their celebratory melodies were elevated as they were led by members of the South African Police Service (SAPS) and the drum majorettes to officially open the Golden Games.
To prepare for the physical activities ahead, blood pressure, sugar levels, and HIV and COVID-19 testing were available to older persons, and they also had access to various medical services on-site.
---
---
Accompanied by Gauteng Premier, Mr Panyaza Lesufi, MECs of Social Development, in Mpumalanga, Eastern Cape and Gauteng, the Minister of Social Development, Ms Lindiwe Zulu, officially opened the 2022 Golden Games.
During the opening ceremony, the Minister expressed her appreciation to the older persons who attended the Golden Games and thanked them for the contribution they continue to make to the country, especially for looking after orphaned and vulnerable children on behalf of the state.
Guided by the older persons Act 13 of 2006 and the Madrid Plan of Action on Ageing, the department of social development, in collaboration with the departments of health, sports and recreation and the South African older person Forum launched the active ageing programme in order to transform the ageing experience & empower senior citizens to stay active and engaged so that they can continue to enjoy their healthy and purposeful lives.
Immediately after the official opening, the Golden Games kicked off, and older persons participated in different sporting codes, including Dark Walk, Dress Up, pegging and Soccer.
The Minister also announced Mpumalanga as the hosting Province of the games in 2023.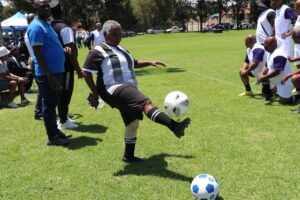 She handed over the torch to the MEC of Social Development in Mpumalanga, Ms Lindiwe Ntshalintshali, as a sign that Mpumalanga will be hosting next year.
The Golden Games continue today as follows:
Date: Wednesday, 07 December 2022
Time: 08h00 – 16h00
Venue: Germiston Stadium, Gauteng Province
Image credit: Ministry of Sports Facebook Page