Mauritius: The newly appointed High Commissioner of the Republic of Uganda to Mauritius with residence in Dar es Salaam, Col (Rtd) Fred Mwesigye, paid a courtesy call on the Mauritius Prime Minister, Pravind Kumar Jugnauth, yesterday, at the New Treasury Building in Port Louis.
In a statement, High Commissioner Mwesigye highlighted that the meeting with the Prime Minister was fruitful and focused on cooperation between Mauritius and Uganda in the tourism sector, education, entrepreneurship, and trade. It was also an opportunity to discuss how Mauritius can act as a hub for goods and services between East Africa, India, and China.
Rtd Col Mwesigye emphasized that one of his priorities is to ensure that the two countries bilateral relations are strengthened and widened. He thus underscored the need to ensure that Government to Government and Business to Business talks take place on a daily basis.
Furthermore, he informed that Prime Minister Jugnauth and himself discussed the need to have a mechanism to establish connectivity between the countries of East Africa and Mauritius.
For example, he remarked that all the countries of the Common Market for Eastern and Southern Africa have agreed on Free Trade Areas, which require enhanced maritime and air connectivity. According to him, Uganda could then become a maize supplier and live animals to Mauritius.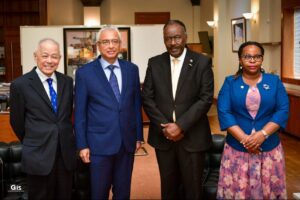 High Commissioner Mwesigye also expressed his appreciation to the Mauritian Government for offering scholarships to students of Uganda. He moreover stressed the need to explore the possibility of Mauritian students studying in Uganda.
In addition, he underlined that the office of the Consulate General will work to ensure that investors and entrepreneurs from Mauritius come and invest in Uganda. Likewise, Ugandans will be encouraged to invest in Mauritius and even create joint ventures with their Mauritian entrepreneurs, he added.