Mauritius: The Prime Minister, Mr Pravind Jugnauth, participated this Tuesday, October 11, 2022, in the celebrations of the 50th anniversary of Air Mauritius operations in Rodrigues, in a ceremony at Plaine Corail airport.
The head of government traced the major steps that marked the evolution of the air desert between Mauritius and Rodrigues, insured by the National Aviation Company, since its maiden flight on September 13, 1972, to this day.
M. Pravind Jugnauth stressed that Air Mauritius had played a leading role in the development of Rodrigues and in the well-being of its population. This dessert has allowed the development of local tourism and several other economic activities, he says.
---
---
It also provided emergency services such as medical evacuations and facilitated better communication between our two islands.
The Prime Minister recalled Air Mauritius' crucial role during the Covid-19 crisis in ensuring the delivery of medicines, vaccines and medical equipment as well as the transport of medical staff.
The company also operated several repatriation flights on the island.
Air Mauritius network allows Rodrigues to be connected to the world with deserts to Europe, Asia and the region.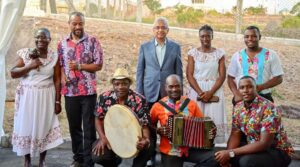 M. Pravind Jugnauth talked about important developments to come in Rodrigues' aerial connectivity, including the expansion of the Plaine Corail runway.
The development, he stressed, will allow the airport to accommodate larger carriers, which will give a fresh breath to tourism and the island's economy in general.
With the additional capacity expected in terms of air freight, Rodrigues companies will be able to export more fresh products.
Beyond the economic and commercial benefits, Air Mauritius allows the people of Rodrigues and Mauritius to get closer together, the Prime Minister said.
M. Pravind Jugnauth expressed his appreciation to the national airline for its role in meeting the aspirations of the people of Rodrigues.