South Africa: Sixteen (16) people were injured after the mini bus taxi they were travelling in collided head on into a shipping container at Lockhart High School in Gunjini – KZN this morning (Tuesday).
Educators contacted Reaction Unit South Africa (RUSA) at approximately 08:01, requesting assistance for the injured.
Reaction Officers & RUSA Medics were dispatched to the school and, on arrival, confirmed that thirteen people were injured in the accident. Some of the injured, including the driver of the white Toyota Hiace, were transported privately to the hospital.
Medics stabilised the remaining passengers before transporting them to a medical facility by ambulance.
According to one of the passengers, they were travelling downhill when the brakes on the taxi failed. The driver veered off the road and onto the school premises before his vehicle crashed into a shipping container.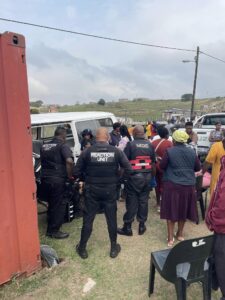 Several scholars were entering the premises at the time of the accident but were not injured.