South Africa: Free State Premier Sisi Ntombela, together with Agriculture and Rural Development MEC Thembeni Nxangisa, have descended to the small farming town of Boshoff in Tokologo Local Municipality, where the province led by the department of agriculture is hosting the Provincial World Food Day under the theme "Safe food today for a healthy tomorrow."
It is befitting that the province took a decision to host World Food Day in Tokologo Local Municipality, an agricultural area whose three cardinal economic pillars are agriculture, mining and tourism. These are the biggest employers in this community.
World Food Day is consistent with the constitutional mandate bestowed on the democratic government to ensure food security for all citizens of the state.
---
---
Yesterday, on 14 October 2022, the Premier, together with MEC Nxangisa, donated wheelbarrows, shovels, seeds and many other resources needed for the community to establish and cultivate their own food gardens. This initiative will go a long way to help mitigate external factors (variables beyond the control of our country) that continue to contribute to rising food prices, leaving our people vulnerable.
"We must empower our people to be able to produce their own food; this will strengthen our economy, reduce poverty and get the Free State back to being the food basket of the country. We have made serious efforts to coordinate farmers across all districts to ensure that farmers, especially black farmers, play an important role in food security in line with Section 27, subsection C of the constitution."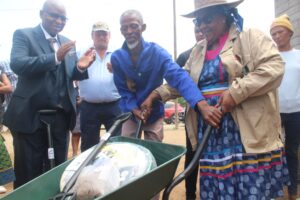 We have a huge task of ensuring that our people have access to land and are also adequately equipped with the necessary skills to work the land. Our primary focus as the province is to make a massive investment in agriculture, i.e. to create access to land, and skills for our existing and aspiring farmers and ensure economic growth translates to jobs for the people. That being said, the Free State has the necessary capacity to be the main producer of food for the country. 
The province has a pool of farmers, and the provincial government has made strides in empowering farmers, particularly young small-scale and commercial farmers, to break into the commercial space like our host today, Mr Mabote; a cattle and crop farmer from Boshof, who supplied Woolworths and many other commercial stores. The agriculture grant must respond to the needs of farmers, and it must ensure that no money is left idle whilst our farmers, black and white, are in need.