Juba, South Sudan: The First Vice President of the Republic, Dr Riek Machar Teny-Dhurgon, said South Sudan should also be celebrating the 12 Sep 2022, on which it signed the current peace agreement as its peace version day, jointly with the International Peace Day.
He emphasized this in his speech during the celebration of International Peace Day on Wednesday, 21 Sep 2022, at Nyakuron Culture Center.
---
---
The one day occasion was organized by the Ministry of Peace Building under the Theme: "End Ethnic Discrimination. Build Peace in Diversity."
He called for the consolidation of peace, adding that our diversity, as constitutionally recognized, should be used as a source of strength rather than a source of division.
"We should celebrate our diversity because it is the source of our strength, and it is not something that can divide us. And if found any discrimination, we have institutions which can address such discriminations be it ethnic, cultural, religious or linguistic discrimination," he added.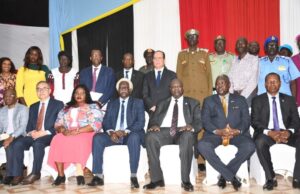 He called on all to embrace peace so as to usher in an era of development and for the country to feed its people through agricultural production.
He also said implementing the peace agreement would attract potential investors to the country.
On the arms embargo and sanctions, Dr Machar further explained that the answer also lies in the peace implementation so as to lift the embargo.
Participants in the peace celebration occasion included representatives of the Civil Society Organisations, Reconstituted Joint Monitoring and Evaluation Commission (R-JMEC), UNMISS, Troika Countries representatives, and Ambassadors from the European Union, Egypt, Sudan, and other diplomatic missions.