Botswana: The Assistant Minister in the Ministry of Youth, Gender, Sport and Culture, Honourable Honest Buti Billy, officially launched Sixteen Days of Activism Against Violence on Women and Children at an event held in Gakhibane SandDunes Grounds yesterday.
When addressing the attendees, Honourable Billy called on citizens to stop the scourge of GBV, where females are usually the victims.
"It is important to note that the right of women and girls to live free of violence is an inalienable factor that remains fundamental as enriched in the constitution of Botswana," he said.
Held in Gakhibane village in the Kgalagadi South District, the area MP, Honourable Sam Brooks, reiterated that residents should all unite and stand against the rampant cases of Gender Based Violence in their community.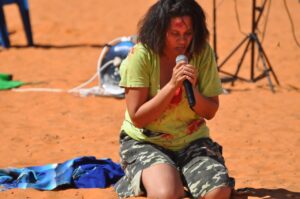 The event was held under the theme "UNiTE to End Gender Based Violence Now" with the intent to fight the marauding COVID-19 aftermaths on GBV. The theme, therefore, calls for a multi-sectoral and united response by all citizens, communities and stakeholders.
Gender-based Violence is very common in Botswana, and in 2020 Botswana Police recorded 221 cases of murder; of those, 119 were related to Gender Based Violence. In 2021 there were 273 murder cases, and 105 were related to GBV.
And still, many people claim that Gender based Violence is not a National Emergency crisis.
Moreover, the Botswana Gender Based Violence Prevention and Support Centre provides timely support for survivors of Gender based violence. These services include FREE clinical services such as HIV testing, emergency contraception and STI screening, as well as counselling services.
Image credit: Botswana facebook page