Botswana, Nassau: The Royal Bahamas Defence Force mounted a full guard of honour in respect of President Mokgweetsi Masisi three day State Visit to Nassau, Bahamas, yesterday on 12th September 2023.
President Mokgweetsi Masisi is expected to hold official talks with the Prime Minister of Bahamas, Phillip Davis, in the capital city, Nassau, and the two are expected to, among other official duties, discuss the establishment of political consultations as well as explore areas of enhanced cooperation between Botswana and Bahamas.
During his visit, President Masisi will pay a courtesy call on the Governor General of the Bahamas, The Most Cynthia Alexandria Pratta.
President Masisi will also deliver a public lecture at the University of Bahamas held under the theme "Strengthening Democracy to Develop the Next Generation of Leaders."
Botswana and the Commonwealth of the Bahamas exchanged state visits in 1999 and 2000. During the then Bahamian Prime Minister Rupert Ingraham's visit in 1999, it was agreed that Botswana and the Bahamas establish diplomatic relations.
In 2000, Botswana's Dr Festus Mogae undertook a four day state visit during which both nations signed an agreement establishing diplomatic relations at a non-residential level.
In May 2006, Botswana and the Bahamas signed the establishment of diplomatic relations in London, United Kingdom.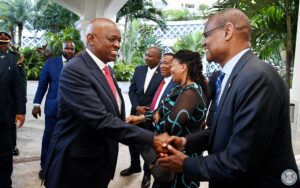 The Bahamas is a well-established member of the international community, having membership of the United Nations and its specialised agencies such as the Commonwealth, the Caribbean and the Organization of the American States, among others. The Bahamas has been a member of the Commonwealth since independence in 1973 and hosted the Commonwealth Heads of Government Meeting (CHOGM) in 1985.
Economic activity in the Bahamas is centred around tourism and financial services. With few natural resources, tourism is the engine of the island's economy, accounting for approximately 70% of the GDP.
Botswana and Bahamas face challenges of globalisation, market access to developed countries, economic diversification and international competition for foreign direct investment, among others.
President Masisi's visit will allow Botswana and the Bahamas to explore potential cooperation areas, especially in the tourism, health and agriculture sectors.