Mauritius: The First Day Cover of a stamp commemorating the 250th anniversary of the press in Mauritius was launched on Saturday, 30 April 2023, by the President of the Republic of Mauritius, Prithvirajsing Roopun at the Media Trust in Port Louis.
The Chief Executive Officer of the Mauritius Post Ltd, Anand Ramchurn, the Chairman of Media Trust, Chayman Surajbali and other personalities were also present at the event.
The commemorative stamp pays tribute to the countless number of journalists and other media professionals who have contributed to this historic achievement.
It is to be noted that Mauritius has one of the oldest presses in the Southern Hemisphere. The first newspaper, "Annonces, Affiches et Avis Divers pour les Colonies des Isles de France et Bourbon", was launched on 13 January 1773 by Mr Nicolas Lambert.
---
---
Mr Nicolas Lambert is closely linked to the beginnings of journalism in the country. His pioneering work in Mauritian journalism has been publicly recognised with the creation of the Nicolas Lambert Prize decades ago, an award that recognises the best works of local journalism and is revived by the Media Trust in 2015.
As per sources, ADB President Masatsugu Asakawa will do an opening day press conference at the #ADBAnnualMeeting made news around the world.
The Innovative Finance Facility for Climate in Asia and the Pacific (IF- CAP) is a global first and a one-stop shop for climate finance for the region that could amplify ADB's climate finance capacity by five-fold.
Minister Prthvitaj Roopun came and took part in the launch of the first day Cover of a Stamp commemorating the 250th anniversary of the Press in Mauritius.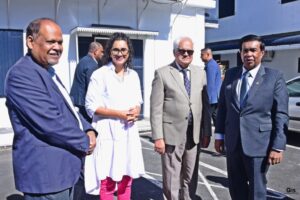 Why is Press Freedom so important for democracy?
In elections, a free press acts on behalf of voters to help them have a say in their country's future.

It reports what all candidates do and says in a fair, balanced and accurate way. It looks at the track record of politicians and assesses their ability to deliver on their promises.

A free press also monitors the electoral process itself so that it is transparent and fair.

A free press doesn't tell people why they should vote for it…it gives them the information they need to make up their own minds.