Kenya: The Cabinet Secretary of Environment, Climate Change and Forestry, Soipan Tuya, has urged Kenyans to plant trees when commemorating birthdays. She said that trees symbolize life, therefore, should plant trees as they mark the beginning of their own lives. Cabinet Secretary Tuya was speaking in Mt. Elgon's Cheptais forests during the conclusion of a 10,000-tree planting activity to mark her own birthday.
Birthdays are special occasions that offer an opportunity for celebration, reflection and giving back. Instead of the usual cake and presents, why not consider a unique and meaningful way to honour your special day? Tree planting can be a wonderful and eco-friendly way to celebrate your birthday while making a positive impact on the environment.
Joined by the Kenya Forest Service Board Chairman, Job Chirchir, among other leaders, Tuya urged the community to work closely with the Service to ensure sustainable conservation outcomes.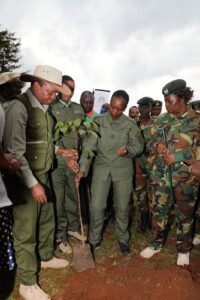 She encouraged the communities to exercise their rights to forest resources and at the same exercise responsible forest conservation. The Minister added that forest adjacent communities constitute the social fences for forests, while the Service has an obligation to secure forests.
Cabinet Secretary Tuya emphasized that the greenlight for logging issued by the the President gave is limited to plantation forestry only. She added that indigenous forests are strictly for environmental conservation and non-extractive activities.
Mr Job Chirchir said forest conservation is a science that should be left to professionals. He added that this year, 5,000 Ha of plantation forests will be harvested, and progressively in a 30-year cycle.
Mr Chirchir noted that misplaced activism had hindered prudent forest practice in the past, leading to over-mature and trees rotting away within plantations. He noted that this trend is what the government is keen to correct. He said that the world over, forests should be managed sustainably.