Kenya: Kenya Forest Service participated in the 12th Mara Day Scientific Conference & Celebration on 14th & 15th September 2023, respectively.
Mara Day is an important event to celebrate the world-renowned Mara River Basin Ecosystem and the 7th Wonder of the World of wildebeest migration. The Mara Day celebrations are hosted on a rotational basis by the Republic of Kenya and the United Republic of Tanzania.
Tanzania hosted the 12th Mara Day Celebration this year at Mugumu Town, Serengeti District, Mara Region. The Theme was: "Conserving Mara River Basin for Biodiversity and Sustainable Economy"; Kiswahili "Hifadhi Mto Mara Kwa Ustawi wa Viumbe Hai na Uchumi Endelevu"
The Agriculture Forest Manager Survey and Information Management at KFS, Dr. Benjamin Kinyili, made a presentation at the Mara Day Scientific Conference on Sub-Theme; Transboundary Water Resources Management and Diplomacy on Biodiversity Conservation for Sustainable Economy". Titled: Leveraging on Modern Technologies in Forest Monitoring, Surveillance and Protection a Case of Forest and Water Catchment Conservation Challenges: The Role of Artificial Intelligence (AI) in Earth Observation using Time Series Satellite Imagery.
Chepalungu Community Forest Association (CFA) and Friends of Mau Conservation Community Group (FOMAWA) were recognized and awarded a trophy and certificate for excellent work on forest conservation, protection, restoration and rehabilitation of the source of River Mara basin.
The function was also attended by Regional Forest Conservator Mau – Francis Kariuki, County Forest Conservators (CFCs) Narok – Daniel Mkung; Bomet – Dennis Kerengo; Nakuru – Peter Mukira; Kericho – Joseph Maina and Regional Commandant – Mau David Mutoro.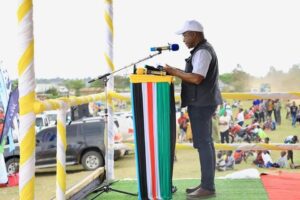 Last year, Kenya hosted Mara Day in Olenguruone, Nakuru County., and Deputy Minister for Water Maryprisca Mahundi, URT; H.E Tamalinye Koech – Deputy Governor, Narok County; Agnes Ntutu – First Lady, Narok County and partners within and outside the East Africa Community.
Secretary for Administration in the State Department for Environment and Climate Change, John Elung'ata, represented Kenya at the official opening of the 12th Mara Day Celebrations at the Sokoine grounds in Magumu, Serengeti District in Tanzania.