South Africa (Mpumalanga): The MEC for Education, Mr Bonakele Majuba, together with the Executive Mayor of Emalahleni Local Municipality, Cllr. NC Nkalitshana undertook an Examination monitoring visit at DM Motaosele Secondary School at Emalahleni this morning.
197 candidates of DM Motaosele Secondary School were writing Mathematics and Mathematical Literacy Paper 2 National Senior Certificate Examination.
The writing of these two papers follows a concession for 1127 grade 12 candidates granted by the Department of Basic Education to write the two papers, which they missed writing as a result of the community protest that engulfed the Emalahleni area.
"We are encouraged by the concession from the Department of Basic Education, and our wish is that all the affected candidates could take advantage of this opportunity. We are happy and relieved that this opportunity puts our candidates in good stead to complete their grade 12 studies within the 2022 school year as opposed to writing this paper in May or June 2023," said MEC Majuba.
---
---
In his address to learners during the morning assembly, MEC Majuba encouraged and wished the learners to do their best to take advantage of the opportunity to write and pass the papers.
The MEC also discouraged the candidates from embarking on pens down parties.
Residence in the local area wished good luck to the students. One of the residents, ' Dudu Mathaba,' who also works in the Mpumalanga Department of Education, stated," Good luck, Matrics; wish you all the best."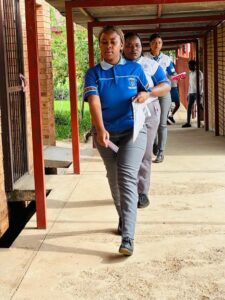 MEC for Education, Mr Bonakele Majuba, always try his best and better ways to promote students and moreover he also provides technologies so that they can learn better. Last Month, he distributed tabs to all the 12th-grade learners.
However, tablets were totally the property of the Mpumalanga Department of Education, and as such, they are supposed to be returned on or before 07 December 2022.
Image credit mpumalanga facebook page