Mauritius: The Minister of Industrial Development, SMEs and Cooperatives, Mr Soomilduth Bholah, effected, this morning, a site visit at the Tianli Spinning (Mauritius) Ltd, which is located in Belle Rive.
In a statement following the visit, the Minister highlighted that he favours a proximity policy with all actors of the industrial sector and is aware of their strengths as well as the challenges they face. He emphasised that Government recognises the efforts of Export Oriented Enterprises to contribute directly and indirectly to the economy of the country.
Mr Bholah pointed out that his site visit to Tianli Spinning (Mauritius) Ltd aimed at recognising the commitment of similar operators in ensuring seamless production to meet deadlines, especially during the New Year period.
---
---
Speaking about Tianli Spinning (Mauritius) Ltd, the Minister informed that it has been set up for 20 years now, has established two workshops in Mauritius and is considering the setting up of a third one. He added that the company employs 370 workers, imports cotton from several African countries and exports its products to foreign companies and markets them to big local companies.
Minister Bholah further said that during today's meeting, he had the opportunity to take note of the challenges being faced by the textile factory, including the lack of workers and the increase in electricity tariffs.
He assured that Government would cater for other avenues to provide required forms of support while recalling that various Governmental schemes, including the Freight Rebate Scheme, have been put in place as support measures to the sector.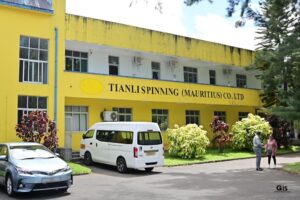 On that score, he reaffirmed his continued assistance to the industry sector, which he pointed out has shown strong resilience and been able to overcome challenges.
In addition, while observing that the Export Oriented Enterprises Sector had reached a total export of Rs 42 billion at the end of September 2022, the Minister expressed hope that it will attain the set target of Rs 50 billion.
Image credit: Mauritius Facebook Page