South Africa: Free State Premier Sisi Ntombela yesterday, 29 September 2022, convened various Sector Education and Training Authorities to a solution-finding meeting at OR Tambo House in Bloemfontein.
The meeting sought to identify opportunities and solutions to a wide range of issues affecting the youth of the province.
Amongst a plethora of thorny issues affecting our youth is the prevailing lack of adequate opportunities, poverty perpetuated by high youth unemployment, and lack of skills development and training programmes.
---
---
Young people are plagued by substance abuse, teenage pregnancy, and the wide spread of HIV and AIDS, particularly among girl children.
"There is a worrying lack of coordination between skills development office and the SETAs and a cancer of reclining and complacency whilst our youth are confronted with a pool of challenges", Premier Sisi Ntombela.
She added that the failure to spend allocated money is unacceptable, particularly given the suffering of the youth. This will no longer be tolerated, said the Premier.
---
---
Opportunities presented to the youth must directly respond to respective programmes and the prevailing material conditions of the people on the ground, in this case, the youth.
There must be an undeniable appetite to empower prospective youth beneficiaries, and Free State accredited trainers.
Following the meeting with SETAs, Premier Ntombela, accompanied by MEC Motshidisi Koloi and Director General Kopung Ralikontsane, descended to the disaster-stricken Jagersfontein, where the broad government service delivery machinery is dispensing services to the community. The various government departments are SASSA, Home Affairs, CoGTA and DESTEA.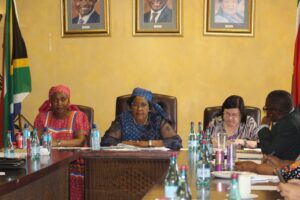 The Premier also met Kopanong Local Municipality Council under the leadership of Mayor Xolani Tseletsele. The meeting is to take stock of the work that has been done and that which is outstanding.