South Africa: Audiences at this year's Armed Forces Day celebration in Richard's Bay had an opportunity to learn from an SA Army Artillery Gunner who takes beauty pageantry, occupational health and safety and soldiering all in her stride.
This formidable field artillery gunner, Captain Amore Muwayba Tolo, based at 1 Tactical Intelligence Regiment in Potchefstroom, has been here in the northern Kwazulu-Natal city of Richard's Bay in the Mhlathuze local municipality as part of the SA National Defence Force's Occupational Health and Safety (OHS) team that was charged with ensuring that revellers and visitors at the military's stalls and exhibition areas do so in adherence to the highest safety standards that curbs injuries.
Speaking to SA Soldier Magazine about what her duties at Armed Forces Day 2023 entail, Captain Tolo outlined her duties as part of safeguards that try at all costs to eliminate occupational injuries for soldiers deployed here for various activities during Armed Forces and also ensure that civilians visiting the military's exhibition spaces are safe.
She added that hers is a branch of public health within the military aimed at improving workplace health and safety standards.
OHS studies injury and illness trends within the worker population and offers suggestions that eliminate and mitigate the risks and hazards that may be encountered when one executes tasks at work. This is also extended to ensuring that the environment is compliant with all legislated health standards.
Her work while at Armed Forces Day 2023 mostly focuses on the safety issues and minimisation of safety risks where soldiers put their weapons and equipment and interact with civilians.
---
---
Captain Tolo's other expertise is deploying, firing and commanding state-of-the-art field artillery hardware like the towed GV5 155mm, the GV6 155mm self-propelled guns, the 127mm Bateleur Multiple Rocket Launcher and 120mm mortar, amongst others.
Apart from her roles as a field artillery gunner and OHS practitioner, the multifaceted Captain Tolo has another feather on her hat, that of being the Top Hundred (100) Semi-Finalist of Mrs South Africa 2023.
Being a woman that always puts her best foot forward and applies her mind when embarking on an endeavour, Captain Tolo heard from a friend about the upcoming Mrs South Africa pageant, and she eagerly entered.
With the strict dedication and commitment that she learnt as an army officer, she took a leap of faith and entered Mrs South Africa at the beginning of the year when entries opened. Her beauty, brains, discipline and charm saw her landing a spot amongst a list of witty and gorgeous ladies who made the prestigious semi-finalist list.
With her claiming a spot in the top 100 of the competition, Captain Tolo is aiming for the stars with the positive hope of capturing the crown and inspiring other women to follow her drive and ambition that's complimented by the discipline she learnt in the SA National Defence Force.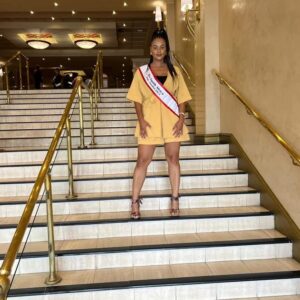 The beauty bug has long bitten this self-driven Army Gunner because, as a young girl growing up, Captain Tolo used to enter beauty pageants and strut her beauty and brains while competing with fellow beauty queens. Beauty pageantry has always been her passion, but in 2011 after joining the SA National Defence Force, she temporarily set it aside to commit her time to serving her nation and people. She also ventured into motherhood and fulfilled her dream of being a mother and wife, but that didn't dissuade her from pursuing the passion for beauty that she had since her childhood, and today she is a finalist in the coveted Mrs South Africa competition.
Captain Tolo further explained that her entering the competition was a way of challenging herself and feeding her desire to help others find themselves.
She coyly states that she is doing this for women – both young and old – who need to believe more in themselves. She emphasised that circumstances do not define the future, and people need to rise above whatever challenges they face and triumph. Her goal is to be Mrs South Africa and then use her exposure and platform to empower and motivate women to add value to society and be the best version of themselves.
Captain Tolo said that for her, wearing boots and being a soldier is a testament that there are no limits to what people can do, only if they set their minds to things they feel passionate about. And for now, Captain Tolo is committed to her Armed Forces Day 2023 task, teaching the youth visiting the SA National Defence Force exhibitions and capability demonstrations about the mandate of the military, the weapons used, career opportunities and the need to always keep healthy and safety uppermost of one's mind when doing anything.
She is keen to see young South Africans join the SA National Defence Force and serve their country as patriots and responsible citizens.