Africa: uThukela District Municipality has embarked on 2023/2024 IDP need analysis and public consultation roadshows. This comes as the District Mayor Cllr Inkosi NB Shabalala, together with his team of Councillors, Traditional Leaders and Administration personnel, kick-started very successful public consultation meetings over a three-day period from February 1 to 3.
These meetings were held in areas like Tabhane, Sandlwane, Eyethu, Shiyabazali and Langkloof under Okhahlamba Local Municipality, respectively.
The purpose of these consultation meetings was to do a community need analysis so that by the time the municipality prepares the budget, it will then factor in all those needs identified by the community for the five-year term and also to ensure all interested and affected communities make comments and inputs to the municipal budget.
The IDP is a strategic planning instrument that guides and informs all planning and developments and all decisions regarding planning in the municipality for five years. Mayor Shabalala clarified and explained the core function of uThukela District Municipality as the provision of water, sanitation and disaster management.
---
---
"This is the meeting where we consult with the community to get their views in order to direct resources where they are most needed. Councillors should be an active link between the municipality and community for any queries that need attention," said Mayor Shabalala.
The issues raised by the community were captured for the purpose of making amendments to the budget in order to ensure the needs of the community are met.
This was the first round of the IDP consultation processes. With this initiative, uThukela District is trying to improve communication lines between the municipality and the community so that both parties clearly understand what is going on in terms of budget allocation according to the community's needs.
The Mayor also introduced a contractor who will be undertaking the construction of precast VIP toilets at the aforementioned areas – Wards 4,5,8,9 and 10 in Okhahlamba Local Municipality.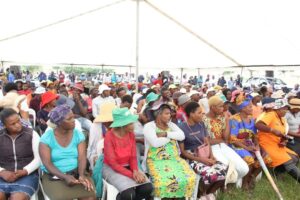 This comes after an assessment which was conducted in terms of the challenges these communities are facing. About 500 precast VIP toilets are set to be built in the area. The project will also create 150 temporary job opportunities for the locals. It is also expected to take up to six months to complete, and about 500 households are expected to benefit from the project.
This project is a direct response to sanitation backlogs in the district. The contractors who will be undertaking this project (precast VIP toilets) are DLV Project Managers and Engineers (PTY) Ltd. These concrete slap structures will also provide dignity and improve the lives of the communities.
The communities of Okhahlamba Local Municipality welcomed and appreciated the project and work done by the uThukela District. "It is essential that we provide our community with dignified basic services through the infrastructure of water and sanitation", the Mayor concluded.
Image credit: uThukela District Facebook Page