Mauritius: A Validation Workshop on the National Report for the United Nations Convention to Combat Desertification (UNCCD) under the Global Environment Fund (GEF) Support to UNCCD 2018 National Reporting Process-Umbrella IV opened this morning at the Labourdonnais Waterfront Hotel in Port Louis.
The Attorney-General, Minister of Agro-Industry and Food Security, Maneesh Gobin; the​​ Conservator of Forests, Poojanraj Khurun; and other personalities were present.
The objective of the Umbrella Project is to enable country parties to collect necessary biophysical and socioeconomic data, establish sound reporting and monitoring systems at the national level, and report against the UNCCD Strategy.
The GEF provided financial support for the National Reporting Process of the UNCCD through its Umbrella Project.
Consequently, a Technical Committee was set up to undertake the consultation process to compile data for Mauritius for the UNCCD National Reporting Process. The project deliverables were achieved, including data compilation for reporting process, capacity building for stakeholders, sensitisation and awareness programme.
Speaking on the occasion, Minister Gobin dwelt on the UNCCD, ratified by Mauritius in 1996, which legally binds environment and development to sustainable land management. Since its ratification, the Government, he pointed out, has undertaken several measures to protect Mauritian soil, adding that there is much more to be done in future to protect the same.'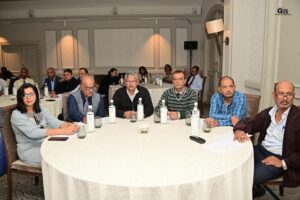 The Agro-Industry Minister further remarked that chemical and soil pollution, land abandonment and invasive plants contribute to the poor quality of the soil. He, therefore, stressed the need to preserve the soil while combatting land degradation as well as endemic plants and wetlands.
He also underlined that lands are being used for commercial and residential purposes due to modernisation. The Convention shows Government's commitment to ensure that concrete measures are being undertaken by stakeholders to preserve land in the country and combat land desertification, he underpinned. Hence the need for the workshop to review existing measures and devise new strategies to protect the country's land, he stated.