South Africa: Football Association of Zambia welcomes to this week's football discourse which comes on the back of a fruitful UEFA and FIFPRO Career Transition Programme held over five days.
It is a kind of programme that has brought participants from over 12 countries, among them Egypt, Cameroon, Ghana, Kenya, South Africa, Botswana, Togo, Angola, and Zimbabwe. The workshop drew players at the end of their playing careers and some ex-players to expose them to post-playing opportunities.
While coaching and punditry are the most prevalent opportunities for former footballers, the UEFA team of experts alongside FIFPRO opened the minds of the participants to more options.
From the Zambian end, they had 2012 Africa Cup-winning striker James Chamanga and Napsa Stars defender Keegan Zulu. It is an opportunity that they hope to spread across in future. These are the kind of discourses that should flood our football space as they represent ultimate football development.
This week we will be in South Africa attending the Cosafa Annual General Meeting (AGM), which is yet another of those football platforms that help us grow our game. We can't wait to be part of the many developmental programs that Cosafa has for its membership. Cosafa remains a model for the rest of the continent in terms of its organizational credentials. It is one of the regions whose developmental programmes see its tournaments attract the participation of guest teams from other regions.
FAZ are also excited at the prospects of the 2023 ABSA Cup, which promises to be bigger than any held before. Regrettably, they had to tinker with the original date for reasons that were beyond their control. They know that once the respective organizational teams roll out the countdown, they will be in for an exciting finale.
The tickets that were purchased ahead of time before the change of venue remain valid. They have no doubt that they will have a good final on Saturday. From a pure football point of view, they are looking to give the final a test of some technological touch. It is something they hope will give this year's final some legacy beyond the winners.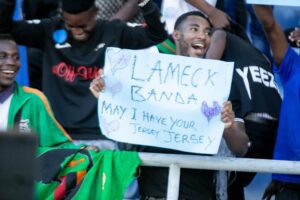 Finally, the Group H Africa Cup of Nations qualifier against Ivory Coast has been set for Levy Mwanawasa Stadium in Ndola on June 17, 2023. It is such a monumental fixture that they urge all the stakeholders to come on board and play their part to make this assignment hugely successful.
If half of the effort put in other ventures can be invested in giving our Chipolopolo an extra push in their quest for AFCON qualification, they have no doubt the team will wrap up qualification at home. The players and technical staff will be banking on the extra push to ensure that they make the nation proud.
On the part of FAZ, they have been liaising with the technical bench on an intense programme for the team as players wind up their seasons. There is a good chance coach Avram Grant will have the players for a longer period than for the previous assignment against Lesotho.
They urge the fans to fill up Levy Mwanawasa Stadium even better than they did against Lesotho. As always, FAZ will do its part administratively to ensure the team is well-prepared.
Image credit: FAZ Facebook page