Africa: Lepelle-Nkumpi Local Municipality, Community Services portfolio chairperson, Cllr. Makonko Matsimela joined the Limpopo MEC for Sport, Arts and Culture, Thandi Moraka, yesterday, 27 May 2022, during the official opening of the multi-million rand State of the Art, Seleteng community Library at Ga-Mphahlele.
The library is expected to benefit about 25 schools around the Ga-Mphahlele area and is equipped with modern technology such as a computer lab, study rooms, early childhood development room, fire-fighting equipment system, gardening and open space for socialisation.
MEC Moraka, in her keynote address, stated that the library would close a huge literacy gap in the area as it offers free public internet access, books for school learners, university students and those reading for leisure.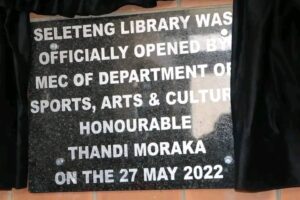 "Magazines and newspapers are also available for the community to utilize within this safe, accessible and beautiful structure.
Since the department is mandated to encourage the culture of reading and to write in communities, the building of libraries is a major step towards achieving that goal. I urge residents to take full ownership of the library. It is the responsibility of all residents to protect it from vandalism." said MEC Moraka.
The library will contribute to the vision of a socially inclusive, creative, active and connected Limpopo, as libraries are the social hub of communities.
Educational and community programmes will be Implemented, such as reading programmes, school holiday programmes, career expos, computer skills, spelling bees and school readers club.
"Motho ke motto ka batho"