Dominica: The Minister for Health, Wellness and Social Services, Cassanni Laville, led a tour of the new Marigot Hospital on Friday, ahead of the official commissioning planned for next month.
Health Minister Laville thanked residents for their patience and provided a detailed update on plans for the phased opening of the facility, as well as the array of health services which will be available.
Minister of State in the Ministry of Health, Dr Cassandra Williams; Parliamentary Secretary, Hon. Kent Edwards; Parliamentary Representative of the Marigot Constituency, Anthony Charles; Senators Delbert Paris and Lorraine Henderson-Reid; Chairperson of the Marigot Village Council, Michael Pascal; and senior health officials were part of the tour.
Two years back, in 2021, Prime Minister Roosevelt Skerrit visited the Marigot Hospital, which was newly built and aimed to serve the northeast of Dominica. The new Marigot Hospital promises to provide services facilities like: Ambulatory Services, Emergency Care, Intensive Care (ICU), Maternity and Paediatric Care, Laboratory and Radiology Services and Trauma Centre.
In 2021 Skerrit announced the completion of Marigot Hospital construction, and the next phase will be to have it furnished and put the equipment in. He expects the Marigot Hospital to move towards formal commissioning very soon, and his expectation accomplishes as these become the best service provider hospital in the nation.
Rayneau, one of the doctors, also thanked the government of Dominica for having worked with the Government of Dominica to complete such a state of the art hospital that the people of Dominica can be proud of.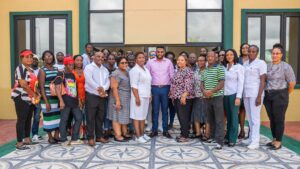 When the whole world was at a standstill, Dominica was the only country which was developing at a rapid pace.
Dominica has been constructing houses for families that suffered losses during natural disasters. The country has built over 1,500 houses on its path to constructing 5,000 climate-resilient homes for people.
Dominica has also built state-of-the-art hospitals, healthcare centres, community centres and schools.
Moreover, Dominica is building back better with new and advanced healthcare infrastructure, which will provide Dominica with quality health services and give an ability for emergency treatments as Dominica is first among OECS that has installed an MRI machine.
Dominica built over 12 Healthcare Centres for doorstep treatment of mild diseases and built a state-of-the-art Marigot Hospital, which will cater for the needs of the Northern and Eastern belt.