Fiji: Minister for Health and Medical Services, Dr Ifereimi Waqainabete, visited Nasoqo Village in Namosi on Friday to close a two-day workshop on the 'Drinking Water Safety Plan' (DWSP).
While addressing the participants, Dr Waqainabete said that water is an important component in our daily lives and how we manage it also reflects on the health of our communities.
"The training you attend these last two days should enable you to reflect on the importance of maintaining a clean water source which will also reflect on the health of the members of your community," said Dr Waqainabete.
"Please take time to reflect on how you manage the cleanliness of your surroundings and take steps to uphold values your children will follow health-wise."
---
---
The Minister said that the new road connecting the once-isolated village would also bring new things, such as an influx of processed food and introduce lifestyles that can be detrimental to their health.
"For us at the Ministry of Health, the new road means regular visits by Health officers and more interaction with villagers along the new road, but please bear in mind that it must not alter your diet or your current lifestyle."
"I am glad that I did not come across any case of diabetes in your village, and this says that you are living a healthy lifestyle up here in the highlands."
The two-day workshop, which was carried out by Navua-based health officials, also saw a comprehensive risk assessment and risk management approach that encompasses all steps in their water supply from the catchment to the village to consistently ensure the safety of their water supply.
Retired Community Health Worker Vitalina Waqauru praised the efforts of the Ministry of Health in conducting the important workshop for her village.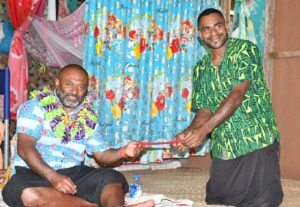 "During my term as the Community Health Worker here, I have always stressed the importance of water and our basic sanitation," said Ms Waqauru.
"This is very important not only for us but for everyone in Fiji as water is life, and we must take all due precautions in safeguarding our water. A good and clean supply of water also leads to better health of people through reduced risk of water-related disease," she adds.
A similar workshop also concluded on the same day at Wainiyavu Village, where the Minister officiated.