Kenya: The Lamu Blue Carbon Project that will be implemented in mangrove forest ecosystems has Yesterday been launched by the Principal Secretary State Department of Blue Economy, Betsy Njagi.
The project that will be implemented over the next 18 months in Lamu and Tana River seeks to enhance blue carbon conservation and management through effective governance, coordination and collaboration of various stakeholders.
During the launch event that took place at King Fahd Hospital in Lamu, the PS, Njagi emphasized the necessity to conserve mangroves in order to build resilience against climate change while adhering to global climate commitments.
Governor of Kenya Lamu County, Issa Timamy, reiterated his support for enhancing the conservation of mangroves, noting that Lamu hosts over fifty percent of all mangroves in the Coast region.
He added it was important for communities to be provided alternative livelihood options so as to reduce over dependence on mangroves.
Dr Elizabeth Wambugu, Principal Kenya Forestry College, who was representing the Ag Chief Conservator of Forests Alex Lemarkoko, thanked all Government agencies and NGO partners supporting the conservation of mangroves which are gazetted forestry resources.
She noted the government's efforts to achieve 30% tree cover by 2032, which includes growing more mangrove resources.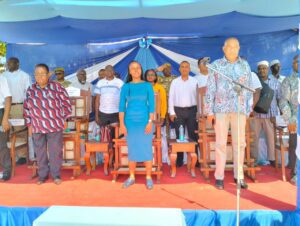 The Blue Carbon project is co-funded by UNEP and The Nature Conservancy at a cost of USD 645,000, and Kenya Marine and Fisheries Research Institute (KMFRI) will be the main implementing agency.
Mangroves provide goods and services that are of ecological and socio-economic importance to society. These include provisions of wood and non-wood products, protection of shoreline, and support to coastal fisheries.
In the context of climate change, Blue Carbon ecosystems capture and store huge carbon stocks per unit of area compared to their terrestrial counterparts. For these reasons, their conservation and sustainable management are critical in meeting important climate and development commitments.
Other KFS staff at the launch included Dr Benjamin Kinyili Ag DCCF Forest Information Systems, Benedict Omondi, Head Watershed Management, George Tarus, Head Climate Change, and Peter Mwangi County Forest Conservator Lamu, among others.
Image credit: KFS Facebook page