Mauritius: The World Health Organization (WHO) Directors for Health Promotion and the Social Determinants of Health, Dr Ruediger Krech (Headquarters) and Dr Adelheid Onyango (Regional Office of Africa), paid a courtesy call this afternoon, on the Prime Minister, Pravind Kumar Jugnauth, at the New Treasury Building, in Port Louis.
The Minister of Health and Wellness, Dr Kailesh Kumar Singh Jagutpal, was also present.
In a statement, Dr Krech highlighted that the meeting with Prime Minister Jugnauth was cordial and was an opportunity to congratulate him for the achievements regarding tobacco control in Mauritius. He stated that Mauritius is a champion in tobacco control, and the meeting was likewise an occasion to share experiences and success stories.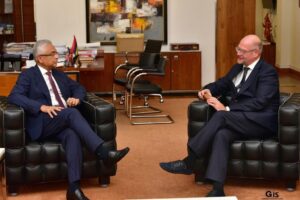 Moreover, Dr Krech reminded that the objective of the visit to Mauritius was to launch the ninth WHO Report on The Global Tobacco Epidemic 2023 and see what is happening in the 194 countries concerned by the report. He also remarked that there is still a lot of work to be carried out regarding tobacco control at the global level.
For her part, Dr Onyango underlined that the meeting was informative and expressed satisfaction that the Prime Minister talked about what it means to be active and healthy. 
She emphasised that WHO representatives came to our island to celebrate Mauritius being the third country to achieve the MPOWER, which is a package of interventions to help in reducing tobacco consumption.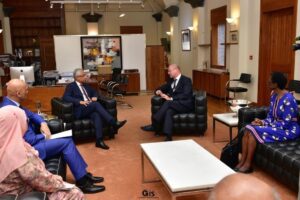 She further commended Mauritius for its achievement and for being an excellent representative of the African region regarding tobacco control.
It is recalled that the six MPOWER measures are:
Monitor tobacco use and prevention policies.

Protect people from tobacco use.

Offer help to quit tobacco use.

Warn about the dangers of tobacco.

Enforce bans on tobacco advertising, promotion, and sponsorship.

Raise taxes on tobacco.