Mauritius: The Executive Director of the International Trade Centre (ITC), Ms Pamela Coke-Hamilton, paid a courtesy call on the Prime Minister, Mr Pravind Kumar Jugnauth, yesterday afternoon at the New Treasury Building in Port-Louis.
The ITC is the joint agency of the United Nations Conference on Trade and Development and the World Trade Organisation for trade and international business development.
In a statement following the meeting with Prime Minister Jugnauth, Ms Coke-Hamilton spoke of the launching of the SheTrades Hub in Mauritius scheduled for tomorrow, 09 March 2023, so as to empower women-led businesses in the country.
The SheTrades Hub, she indicated, will enable women to access finance and markets, upskill women in terms of digital awareness as well as create mechanisms to support women in entrepreneurship.
"Mauritius, as an ecosystem, is one of the best that we have worked with", she said, adding that government policies have helped in the creation of an enabling environment. Discussions, the Executive Director further pointed out, centred on similarities between Small Island Developing States (SIDS) and how to continue to champion issues affecting them, such as high debt to the Gross Domestic Product (GDP) ratio and vulnerability index. To this end, she spoke of moving beyond GDP as a measurement for a country's development and looking at strategies to come together as SIDS and to have a multilateral approach.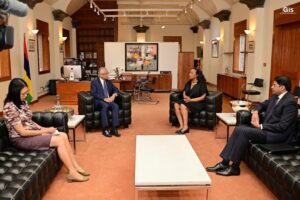 The unique role that Mauritius can play as regards the African Continental Free Trade Area (AfCFTA) was also underlined during the meeting stated Ms Coke-Hamilton. The AfCFTA, she mentioned, is going to be a game-changer that will create a single economic market.
Mauritius can position itself as a gateway to Africa in terms of investment opportunities in areas such as textile and clothing, Fintech and ICT, stated the Executive Director. For her, the blue and green economies are the new waves of the future.