Mauritius: A ceremony to celebrate the achievements of the International Trust Ltd (ITL) over the past two decades now, together with the 30 years of the Mauritius International Financial Centre (MIFC), was held yesterday at Vivea Business Park, Moka. 
The Minister of Financial Services and Good Governance, Mr Mahen Kumar Seeruttun, the Chief Executive Officer of ITL, Mr Ben Lim, and other eminent personalities were present.
In his address, Minister Seeruttun, at the very outset, acknowledged the power of entrepreneurship which Mr Ben Lim personifies. He said that Mr Lim's reputation as a fine entrepreneur, highly responsive to customer needs with an unrelenting focus on "freshly-baked tailored solutions", ever-ready to understand, predict and deliver on customers' and investors' expectations is at the core of ITL's success.
He further highlighted that behind the success of ITL and the MIFC lies a story of partnership and trust. He recalled that Mauritius had witnessed decades of economic and institutional transformation, adding that the MIFC has seen steady expansion both in terms of the number of players, the diverse financial product offering, and the volume of activity.
---
---
He pointed out that the resilience of the country has been stress-tested several times from economic downturns, FATF and EU listings, and a global sanitary crisis. However, despite these odds, in a short span of time, the Financial Services Sector has become a significant contributor to the country's Growth Domestic Product, he observed.
According to Minister Seeruttun, the global and regional marketplace remains dynamic, churning new opportunities and challenges. Hence the need, he indicated, to chart new directions, build new strengths, and create new comparative advantages in a bid to embrace new opportunities and rise to the emerging challenges.
He reassured that Government would continue to fortify traditional advantages and open up new frontiers with innovative and highly competitive products and services. We will continue to upgrade appropriate frameworks, policies, licences and products as well as promote technological solutions, he added.
He further dwelt on the importance of building a partnership of trust between the Government and the private sector so as to enhance the resilience and sustainability of our economy. The trust and reputation that our country now enjoys, particularly since we delivered on FATF's 40 Recommendations, positions Mauritius among the best performers in its league, he rejoiced.
Mr Seeruttun also stated that confidence in Mauritius remains strong in the international marketplace and that the country is working on new imperatives which will give reassure investors that funds channelled through Mauritius come with sustainability credentials.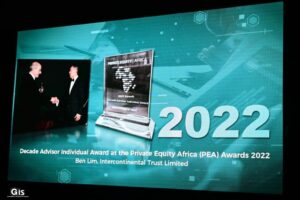 He further said that the global business sector was seeing continuous demand for Africa-facing funds screened for Environmental, Social and Governance (ESG) standards and announced that the new ESG Framework would soon be presented.
For his part, the CEO of ITL, Mr Ben Lim, rejoiced that ITL has yet again won another award, namely the 2022 Corporate Financial Advisor Award from Private Equity Africa. 
The Private Equity Africa Awards are the ultimate accolade of success in the African Private Equity industry, he said.
He recalled that since the setting up of the ITL, the team has built a solid foundation and inculcated a set of values, principles and practices that would differentiate them from the market. He added that ITL also competes internationally against service providers in overseas jurisdictions and seeks to attract more clients to use Mauritius and is known to be offering an array of financial services.
He stated that after 30 years, Mauritius needs to aspire to become a full-blown IFC. We need to move up the value chain and develop a diversified financial services ecosystem comprising investment bankers, mergers and acquisition lawyers, corporate finance specialists, bond traders, and custodian companies, and we need to develop a strategy to attract those talents to Mauritius, he said.
Intercontinental Trust Limited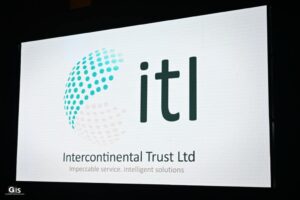 Established in 1999, ITL is a Management Company licensed by the Financial Services Commission to provide a comprehensive range of corporate, fiduciary, tax, accounting and fund administration services to an international and local client base. 
ITL counts among its clients some of the largest high-profile institutions and multinationals, leading African Private Equity Firms, top 10 investment banks, and high net-worth individuals.
ITL has offices in Mauritius and Seychelles as well as representative offices in South Africa and Singapore and employs more than 200 people.
Image credit: GIS Mauritius facebook page