South Africa: The National Student Financial Aid Scheme (NSFAS) has implemented the following internal controls and risk management strategies to avoid the provision of bursaries to non-deserving students by implementing a variety of steps during the processing of applications for funding for both new applicants and continuing students.
The steps include:
1. Determining the financial eligibility of an NSFAS beneficiary by using a combination of the parent/spouse/legal guardian information as confirmed against data received from the Department of Home Affairs (DHA) and data received from the South African Revenue Service (SARS).
2. Financial eligibility is determined automatically when NSFAS processes a new application, whereas the financial eligibility of continuing students is determined on an ad hoc process.
The academic eligibility of NSFAS beneficiaries is determined as follows:
For continuing students' compliance in regard to academic eligibility criteria is determined using academic results received from 1) DHET for TVET College students and 2) the institution at which the student studied for university students.
For all new applicants and continuing students' compliance regarding the N+ rule is determined using 1) the HEMIS data for the University N+ rule and 2) NSFAS's funding data for the TVET College N+ rule.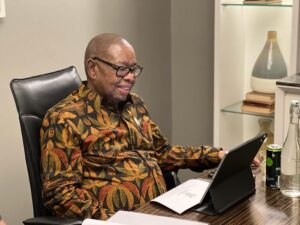 2) A review of the financial eligibility of the 2022 continuing students was conducted, and NSFAS found that more than 35 000 students were not financially eligible. The results of this review were presented to the NSFAS Board for a decision regarding further steps that need to be taken.
A review of the academic eligibility of 2022 provisionally funded students was conducted after the receipt of updated HEMIS data for the 2021 academic year. 
To date, NSFAS has found that more than 25 000 students have been found to be funding eligible based on the latest HEMIS data provided. Eighty percent (80%) of these students have achieved their undergraduate qualification as per HEMIS- 
However, the academic results that NSFAS received from some institutions do not indicate that these students have achieved their undergraduate qualifications. The funding of these students has been put on hold, and the results of the review have been presented to the NSFAS Board for a decision regarding further steps that need to be taken.
ON HIGHER HEALTH ROLE IN ADDRESSING GENDER-BASED VIOLENCE AND FEMICIDE
Higher Health SA is the implementing arm of the DHET to address Gender-based Violence and Femicide (GBVF) in Post-School Education and Training (PSET) Institutions (including public universities, Technical and Vocational Education and Training (TVET) Colleges and, since 2021, expanding into Community Education and Training (CET) Colleges). 
It has put a range of interventions in place to deal with GBVF, including:
• Capacity and skills development training on topics such as GBVF sensitisation, and procedural guidelines on how to handle sexual and gender-related misconduct on campuses. Since last year, over 7706 frontline and support staff have trained to support students.
• The Department, in collaboration with Higher Health, has further launched several protocols, minimum standards, checklists and guidelines to assist institutions in putting mechanisms in place for reporting and providing support to survivors.
• Higher Health has established a range of services for victims, survivors and perpetrators across campuses, including:
o prevention mechanisms through a GBVF risk assessment self-screening toolkit for students to identify early risk detection and vulnerabilities to take measures to further assess their needs and provide assistance;
o a 24-hour PSET toll-free crisis hotline;
o Future Beats radio programme;
o clinical care for the treatment of physical injury and prevention of pregnancy, HIV and other STIs;
o professional psycho-social care offered by counsellors and psychologists; and
o peer support through GBVF support groups.
• Higher Health has launched a co/extra-mural-curriculum on Civic education with a full module on GBVF, Gender Equality and Gender Diversity; and
• Higher Health is building student champions across all campuses through their peer-to-peer educator networks to reach out to community members and support them in understanding GBVF and breaking the stigma.
(2) To say we are successful is not easy. We can still do much more. However, our success is reflected in the following numbers recorded in 2021:
• over 124 964 students were enrolled and capacitated via the Higher Health GBVF Second Curriculum;
• Over 80 500 students and staff have been assessed using the Higher Health GBVF risk assessment toolkit;
• The stigma has been broken as we have for the first time in 2021 seen over 8 676 students reporting GBVF and have been assisted by Higher Health GBVF support services in the form of clinical phycologists and registered counsellors and other support structures.
Most cases still remain a product of mainly intimate partner violence (IPV), domestic violence and circumstances outside campus communities. However, the no-tolerance policy on GBVF on campus remains imperative as much as support to all survivors of GBVF remain a pertinent part of interventions.
ON DEPARTMENT OF HIGHER EDUCATION AND NATIONAL(DHET) COHORT STUDIES
The Department of Higher Education and Training started undertaking national cohort studies, including a specific study on NSFAS-funded students in the 2016/17 financial year.
Cohort studies are the study of first-time entering undergraduate students, who are tracked over a 10-year period to determine the percentage of students that have dropped out from their studies or who have completed their studies. 
The NSFAS cohort study considers any student who received NSFAS funding at any point in time during their studies. The report published in February 2022 covered 2000 to 2019 national undergraduate cohort for public higher education institutions as follows:
National Cohort Rates
• Dropout – 32.4%
• Throughput – 61.2%
Students who have received financial assistance at some point in time outperform the national cohort
NSFAS Cohort Rates
• Dropout – 20.8%
• Throughput – 71.3%
It should be noted that at least 4 years of data would be required for 3-year qualifications and 5 years of data for 4-year qualifications. The current study underway will be published in March 2023 and include students on the new bursary scheme and provide information on 3-year qualifications as 4 years of data will be available for the 2018 academic year cohort. 
Information on 4-year qualifications for the new bursary scheme cohort will be contained in the March 2024 undergraduate cohort study report.
It should be noted that the NSFAS has not conducted any research to date regarding the dropout rate of NSFAS beneficiaries. This has largely to do with aspects of the NSFAS policy regarding continued funding for all academic years prior to 2022. 
In prior years, when a student was found not to be academically eligible for continued funding (i.e., whether the student had passed enough subjects/courses/modules to remain funded by NSFAS), the student was expected to continue studying at an institution as a self-funded student until the student was again academic eligibility criteria compliant. This applied to both N+2 University students and all TVET College students.
The artificial "dropout' as a result of these policies makes it extremely difficult to determine whether the student, in fact, dropped out of their studies or whether the student has continued with their studies as a self-funded student.
Although the N+2-related policy no longer applies to NSFAS funding from the 2022 academic year for university students, the policy statements related to TVET College students do still apply and, as a result, would continue to overinflate any dropout rates developed by the entity.
The entity is therefore expected to be able to provide statistics related to the dropout rate of NSFAS beneficiaries that studied at University as of the 2022 Academic Year.
ON MANAGEMENT AT THE CENTRAL UNIVERSITY OF TECHNOLOGY, UNISA AND MANGOSUTHU UNIVERSITY OF TECHNOLOGY
I have appointed, Professor Norman Duncan, as an Independent Assessor at the Central University of Technology to focus on a range of issues relating to governance and management concerns at the institution. The Terms of reference were appointed in the government gazette 47281 dated 10 October 2022.
At UNISA, I have appointed Professor Themba Mosia as an independent assessor, according to gazette number 46904, published on 13 September 2022. The terms of reference, relate to a range of serious allegations relating to governance and management challenges at the University.
At the Mangosuthu University of Technology (MUT), I have appointed Professor Lourens van Staden as an Administrator, taking over the role of the University Council for a period of up to 24 months. The terms of reference are outlined in government gazette number 47280, published on 10 October 2022.\
ON INVESTIGATIONS AT THE NATIONAL SKILLS FUND
In relation to the forensic investigations at the National Skills Fund (NSF), the forensic investigation firm completed the investigation wherein different categories of findings were made; some are grave in the sense that they recommend a further criminal investigation, and some require disciplinary measures against internal officials in the NSF.
I have sent this report to SCOPA, and the Department is in the process of submitting the report to the Portfolio Committee on Higher Education, Science and Innovation.
ON ACTION AGAINST FRAUD AND CORRUPTION
Department of Science and Innovation
One employee was investigated on allegations of directly and/or indirectly doing business with the State. The case is at a disciplinary stage.
Department of Higher Education and Training
The Department has taken disciplinary actions for fraud and corruption against the ten (10) officials of the Department. Two (2) for fraud and corruption and seven (7) for fraud. The other case is still ongoing.