Mauritius: The Roselle Day, a joint initiative of the Ministry of Agro-Industry and Food Security and the Food and Agricultural Research and Extension Institute (FAREI), was launched by the Attorney General and Minister of Agro-Industry and Food Security, Maneesh Gobin, on Saturday 10 June 2023, at the FAREI Model Farm in Rivière des Anguilles.
A roselle production and processing booklet was also launched on that occasion, and roselle seedlings were distributed to schools and agro-processors.
In his address, Minister Gobin highlighted that Roselle Day had been launched as his Ministry, in collaboration with the FAREI, has decided to introduce new initiatives to promote local production and support organic farming projects. 
"Government will continue to fully support local farming projects and encourage planters, in particular youths, to turn to sustainable agriculture so that they become self-sufficient and make the country less reliant on food importation," he pointed out.
He recalled that the roselle was introduced in Mauritius by the Faculty of Agriculture of the University of Mauritius (UoM) in 2005-2006 from Rodrigues through seed propagation on the University farm with the objective of developing and promote the production of roselle as a novel crop with good processing potential for the benefit of farmers and women agro-processors.
The Minister further observed that the collaboration of FAREI was sought after by the UoM for developing roselle value-added products for the local market, adding that extensive research trials and activities were carried out on product development, product acceptability, and product shelf life.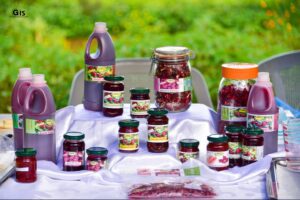 Gobin highlighted the importance of roselle in dishes owing to their nutritious, environmental, and economic value as well as their conservation period. "Research activities have shown that roselle is highly suitable for processing into a wide range of value-added products, namely: pickles, jam, jelly and as dried for fruity tea production, amongst others," he added.
He underlined that the government has put in place various measures to give an impetus to the agricultural sector for the welfare of the planters and the population. These include the introduction of several schemes, such as sheltered farming and bio-farming.
On this note, he encouraged the youths to launch themselves in sustainable agriculture, such as the cultivation of roselle, which has a high economic value locally as well as internationally.
Roselle (Hibiscus sabdariffa), also known as Florida cranberry, red sorrel, or Jamaica sorrel, and native to Central and West Africa, is grown around the world. Many parts of the plant, including the leaves, fruits, and roots, are used medicinally or as food. 
Roselle calyces have an excellent nutritional value being a good source of anthocyanins, pectin, vitamin C, calcium, potassium, phosphorous, and vitamins B2 and A, which subsequently confers numerous medicinal properties. Health benefits include antibacterial properties, as a good source of antioxidants, lower high blood pressure, reduced cholesterol, help in weight loss, improved digestion and reduced inflammation.
Image Credit: Mauritius facebook page